The Rome Italy Temple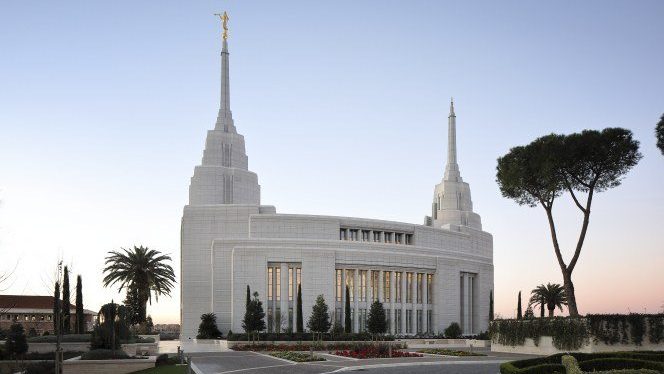 This article was contributed by a local member of The Church of Jesus Christ of Latter-day Saints. The views expressed may not represent the views and positions of The Church of Jesus Christ of Latter-day Saints. For the Church's official site, visit churchofjesuschrist.org.
Rome Temple
Via di Settebagni 376, Rome, Italy
A temple is considered a literal house of the Lord, where members of The Church of Jesus Christ of Latter-day Saints go to deepen their commitment to the Gospel of Jesus Christ. Inside this holy building, faithful Church members make promises with God and come closer to Him through sacred ceremonies called ordinances.
The Rome Italy Temple sits on a prominent site in Rome and has become a local landmark for locals, tourists, and travelers of all shapes and sizes.
Visitors are invited to enjoy the botanical gardens, the calming fountain flowing from the temple towards the Christus, and the incredible grounds. While you're visiting, stop by the visitors' center for an interactive experience. Learn more >>
Many locals call it the "Mormon Temple," but the actual name is the Rome Italy Temple. It is owned and operated by The Church of Jesus Christ of Latter-Day Saints.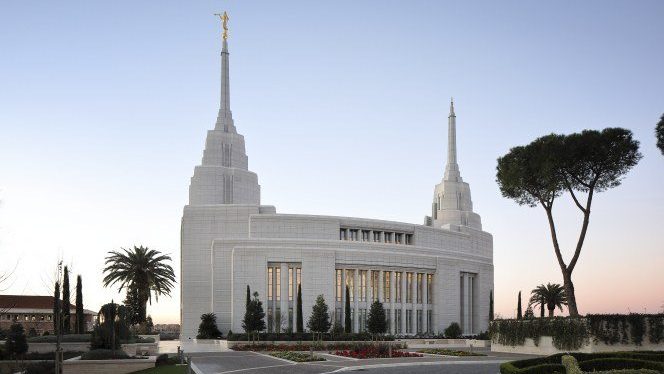 Temples have been around for a long time. Moses had a tabernacle, Solomon built a beautiful temple, and Jesus taught at the temple in Jerusalem. Today, temples are built all over the world. In over 140 temples worldwide, faithful members of The Church of Jesus Christ of Latter-day Saints find opportunities for peaceful reflection and for learning more about God's Plan of Happiness. Inside temples, couples can be married for eternity, not just "'til death do you part." Church members can also perform baptisms and other ordinances for their loved ones who died without receiving these blessings.
Temples are different than the regular chapels found around the world, where members meet for Sunday worship services. There are several chapels located near the Rome Temple, and visitors are always welcome to participate. Click here for more information about worship service times and locations.
After a temple is built or renovated, all are welcome to attend a public open house and tour the temple. After a temple has been dedicated, everyone is still welcome to enjoy the beautiful grounds and the visitors' center. However, entrance into temples is then reserved for faithful members of the Church who wish to participate in the temple ceremonies.
Anyone, regardless of religion, is welcome to visit the Rome Italy Temple grounds, attend worship services in the chapel, research their family history in the FamilySearch Library, tour the visitors' center, and use the other facilities.
Place of Peace & Learning
For members of the Church, the Rome Italy Temple is meant to be a place of learning and a place of peace. It is a place where they can receive spiritual guidance for decisions in their lives. Because each temple is the House of the Lord, visiting the temple can help them feel a special closeness to God. This feeling can provide hope and direction during the challenges of life.
Members of The Church of Jesus Christ of Latter-day Saints perform several ordinances in the Rome Temple. Ordinances are sacred acts that create a binding promise between God and a person who wishes to return to God's presence.
Baptism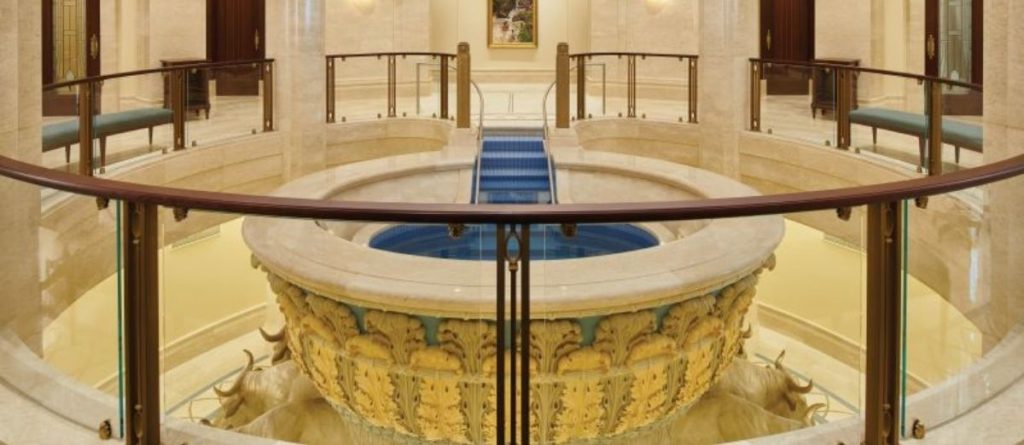 Jesus taught that baptism was required to enter the kingdom of heaven. But what about people who die without having the chance to receive baptism?
In the Rome Italy Temple, faithful Church members are baptized on behalf of these people—a practice that also took place during the time of the Apostle Paul in the New Testament (1 Corinthians 15:29). Participants dress in white and are baptized by immersion for family members who passed away without having been baptized into His Church. Baptisms for the dead give those who have passed on the opportunity to choose whether or not to accept that baptism and follow Jesus Christ.
Endowment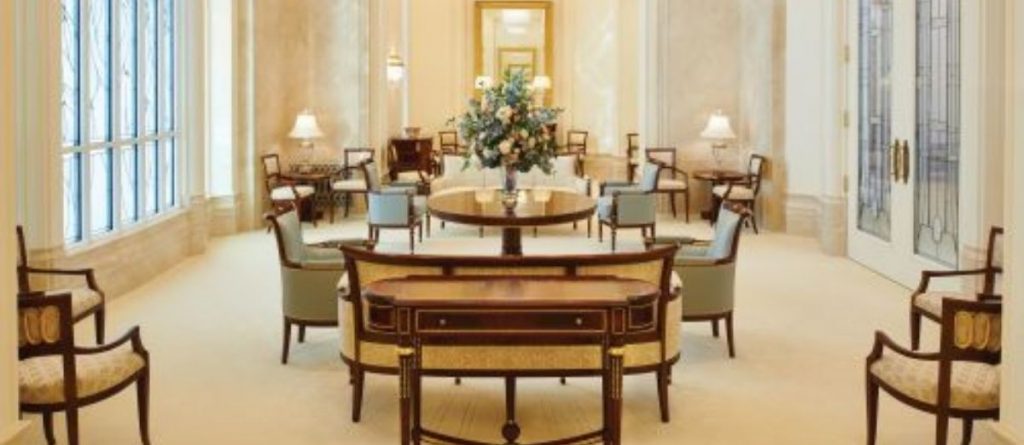 The word Endowment means gift. Those who receive the temple Endowment receive various blessings, such as greater knowledge of God's purposes and increased power to resist temptation and follow Jesus Christ.
The Endowment ceremony teaches of God's love for all of His children and His plan for their happiness. Participants make special two-way promises with God, also known as covenants. They covenant to obey God's commandments and follow Jesus Christ. In return, God promises wonderful blessings in this life and the opportunity to live with Him as eternal families after this life.
Marriage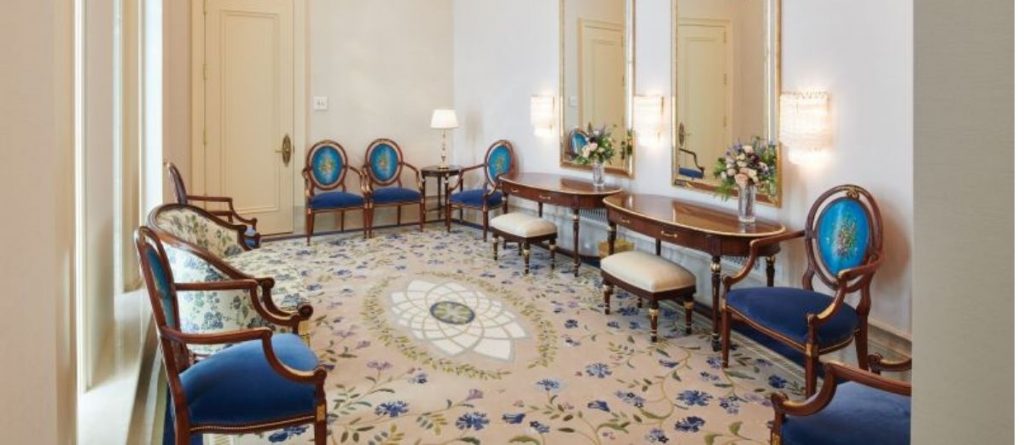 Marriage ceremonies called temple sealings also take place inside the Rome Italy Temple. Because God wants us to be happy forever, marriage and family relationships are meant to last far beyond "till death do you part."
During a temple sealing, the bride and groom kneel and join hands across a simple altar. They promise to honor and love one another, and they commit to follow Jesus Christ. In return, they are promised sealing blessings of receiving all the Father has, including having their marriage and family last forever, even beyond death.
A Beacon to All
The Rome Temple is both a spiritual and literal beacon to those in Italy. It is a reminder to all that it is a place where individuals can go to make sacred promises with God, feel His spirit, and escape from the hectic demands of day-to-day life.
Frequently Asked Questions