什麼是棕櫚星期日?
通過凱莉約翰遜
"Palm Sunday" is the first day of Holy Week, a day dedicated to celebrating the triumphal entry of Jesus Christ into Jerusalem. As we read in the book of Luke, "And when he was come nigh, even now at the descent of the mount of Olives, the whole multitude of the disciples began to rejoice and praise God with a loud voice for all the mighty works that they had seen; saying, Blessed be the King that cometh in the name of the Lord: peace in heaven, and glory in the highest" (Luke 19:37-38). They then proceeded to lay down palm fronds and cloth at His feet famously shouting "hosanna" in His praise. This was done to welcome Jesus Christ as He entered into Jerusalem and fulfilled the prophecy contained in Zechariah 9:9 "…behold, thy King cometh unto thee: he is just, and having salvation; lowly, and riding upon an ass…." During this triumphant entry, these palm branches were laid in His way, and at that time in history, they were commonly seen as symbols of wealth and luxury. Palm trees are used in their entirety in countries where they are commonly found: for food, utensils, and even medicinal purposes. The simple act of giving this up at the arrival of Christ was truly a sacrifice and the highest honor and respect that could be shown.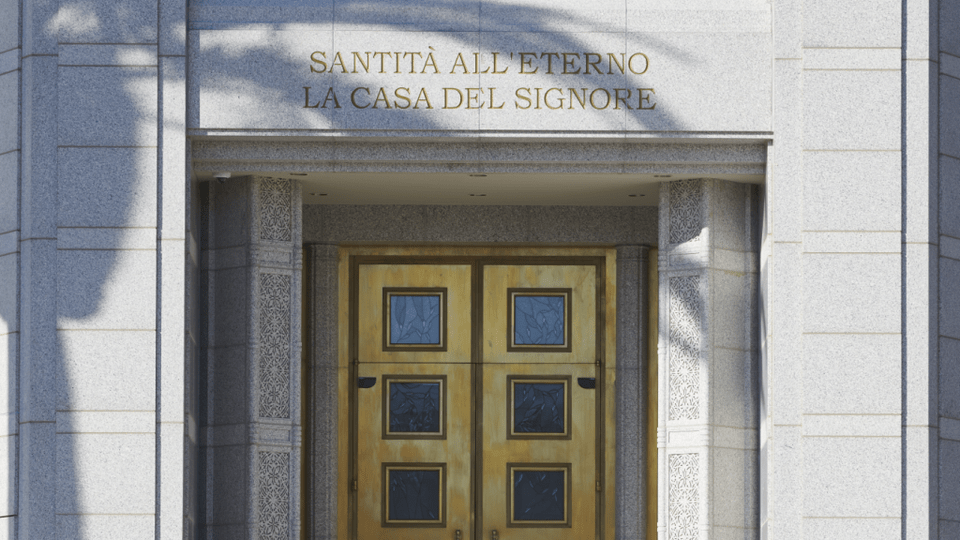 An iconic feature of the Rome Italy Temple is that of the palm trees placed on either side of the entrance. Palm trees are notorious for their association with "eternity" because of their longevity and 常綠 質量。這些奇妙的樹被放置在"歸耶和華為聖,耶和華的殿"字樣的兩側是多麼合適,這是對我們的主和救主的最高敬意。以及非常合適的 象徵 永恆被放置在門外,可以瞥見聖殿內的天堂。一個感知永恆的地方,我們為來生做好準備。
Easter is the perfect opportunity to remember the life of Christ and celebrate His victory over death. To start off Holy Week right, how can you welcome Him into your life as the people of ancient Jerusalem welcomed Him? How can you sacrifice as did He? How can you remember Him? Let us know by leaving a comment below!