为什么当今世界上有这么多不同的宗教?
通过 Kaleb Smullin 和 Stockton Lott
There are over 4,000 different religions that cover the Earth,1 with some of the most widely recognized including Christianity, Judaism, Islam, Buddhism, and Hinduism. Ephesians 4:5 in the New Testament reads that there is "One Lord, one faith, and one baptism." This scripture makes me wonder: if there is to be only one of each of these things, why are there so many different religions that teach about the same topics in different ways? Have you ever asked if any of these denominations hold the fullness of the truth?
这个问题是 200 多年前一位名叫约瑟夫·斯密的年轻人提出的。他写了:
"不同教派之间的混乱和纷争如此之大,以至于像我这样年轻,对人和事如此不熟悉的人,不可能得出任何确定的结论,谁是对的,谁是错的……在这中间在这场口水战中,我经常对自己说:该怎么办?所有这些政党中谁是正确的;或者,他们都错了吗?如果其中任何一个是正确的,那是正确的,我怎么知道呢?"2
Amidst this great time of confusion during the early 1800s in upstate New York, U.S.A., Joseph was determined to find an answer. He read in the Bible, James, chapter one, verse five which states, "If any of you lack wisdom, let him ask of God, that giveth to all 男人 宽宏大量,不责备;还要给他。"没有任何经文像这样触动他。他知道,如果他要找到他的问题的答案,那只能来自上帝。这段经文将成为他生命中的一个转折点。
One day, he decided to put the scripture to the test. He went into a grove of trees near his house, where he could be alone. Once he reached the point where he wanted to offer his prayer, he knelt down and began the first vocal prayer of his life to ask of God to know which church was true. During his prayer, Joseph said in his own account: "I saw a pillar of light, exactly over my head above the brightness of the sun, which descended gradually until it fell upon me. When the light rested upon me, I saw two personages, whose brightness and glory defy all description, standing above me in the air. One of them spoke unto me, calling me by name, and said pointing to the other, "This is my beloved Son, Hear him"3.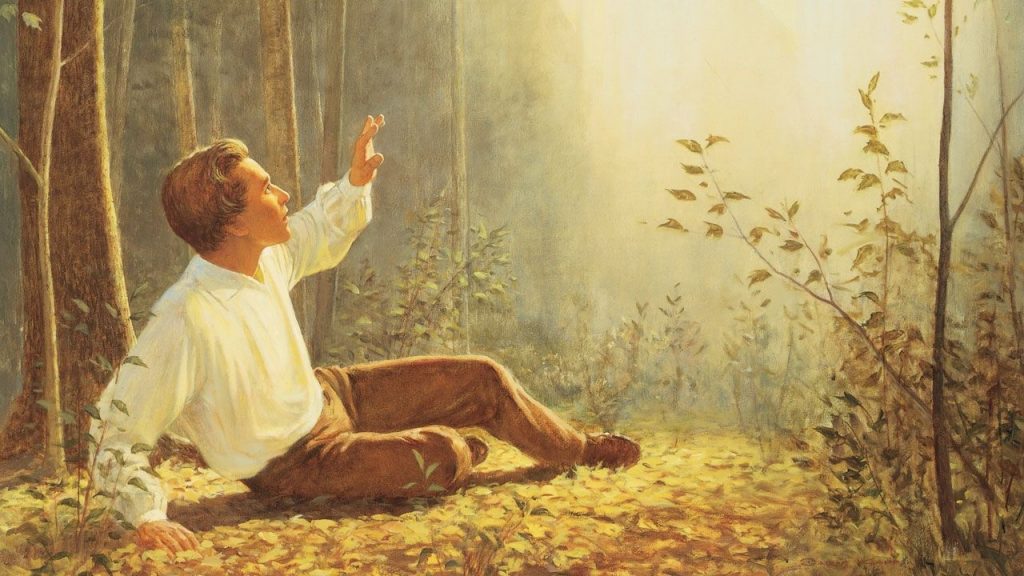 God the Father and His Son, Jesus Christ, appeared to Joseph Smith, and both of them had bodies of flesh and bone. They explained that all the current religions on the Earth "draw near to [them] with their lips, but their hearts [were] far from [them]," which I understand to mean that they all had a part of the truth but had not yet received the fullness of Christ's Gospel. But, Heavenly Father and the Savior promised that the Gospel of Jesus Christ, in its entirety, would be restored through Joseph.
But why was it necessary for the truths to be restored? Where did they go? Did Christ not establish a perfect Church while He was on the Earth?
基督 做过 establish a perfect Church. However, after His Resurrection and Ascension, and the apostles were killed, I understand that the power and authority that Christ had given to them to lead the Church became lost. Changes to His doctrine ensued as man no longer had the authority to receive such revelation on a church-wide level. With the passing of time, man realized that the doctrine that was being taught was not the same as that which Christ had established. Trying to bring back the truth by themselves, they established their own churches founded upon their own interpretations of the Bible. This, according to my belief, is why there are so many different sects of religion.
Many years after Joseph's vision, under God's direction, he was able to find another record of scripture. With the power and gift of God, he was able to translate it into what is now called: The Book of Mormon, Another Testament of Jesus Christ. This record does not replace the Holy Bible, but instead, goes perfectly together to testify of the divinity of Jesus Christ. This record was given to us as proof, to know for ourselves if The Church of Jesus Christ of Latter-day Saints is Christ's Church on the Earth today. Everyone is invited to read the Book of Mormon. I have read this book, and after praying about it, have felt the truth of it confirmed to me by the Holy Ghost. Anyone who prays about its message with a sincere heart, a genuine desire to find the truth, and faith in Christ will have God manifest the truth of the Book of Mormon to them by the power of the Holy Ghost. (Moroni 10:3-5).
进一步了解 Book of Mormon.
1 仙童,玛丽。 2021. "世界上有多少种宗教?"学习宗教。 https://www.learnreligions.com/how-many-religions-are-there-in-the-world-5114658.
2,3 史密斯,约瑟夫。 "约瑟·斯密——历史"第 1 章。