Poderoso cambio de corazón: speranza nel sentiero
Poderoso cambio de corazón: speranza nel sentiero
mayo 23, 2022
0 Comentarios
1122 Puntos de vista
A memorable devotional broadcast on Facebook and Youtube on June 24, 2022 at 7 p.m., with stories and testimonies of a mighty change of heart and uplifting music.
During this event, we want to invite you to meditate and reflect on what might lead you to have a mighty heart change and conversion to Christ and to consider ways you can continue to nurture your changed heart. We know that by joining and watching this broadcast together with us, you will feel the spirit testify to the truthfulness of the restored gospel and your personal testimony will be reaffirmed.
You can reserve tickets to watch this event live at the Visitors' Center.
Facebook link: https://www.facebook.com/events/3191373214441437/?ref=newsfeed
Youtube link: https://youtu.be/u6p2_Yl1SmE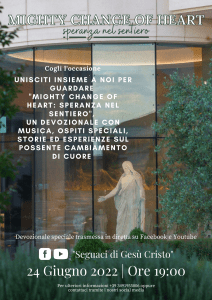 Detalles
Fecha:

junio 24

Hora:

Categorías del Evento:

Etiquetas del Evento:

Web:
Organizador
Centro di Formazione per la Didattica all'Emergenza
Local
Chiesa di Gesù Cristo dei Santi degli Ultimi Giorni

Vía de Settebagni, 354




Roma

,

Roma

00139

Italia

+ Mapa de Google

Teléfono:

+39 0694805050